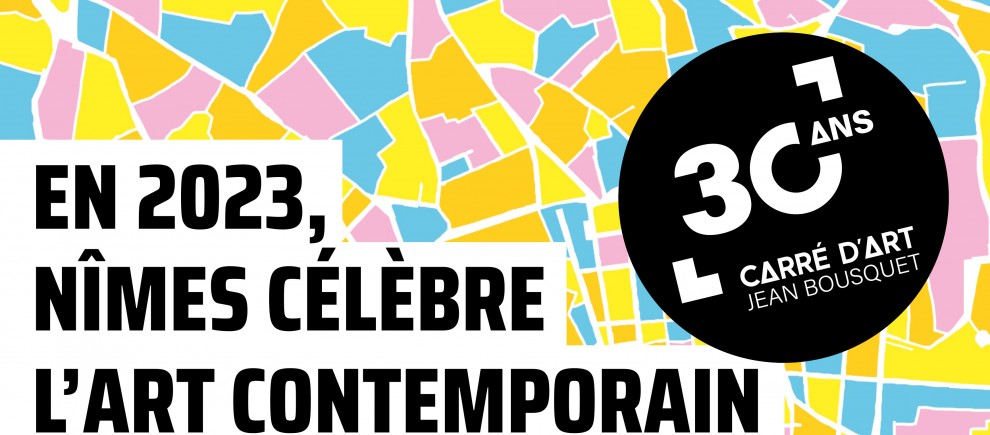 30 YEARS - CARRE D'ART

Anniversary on May 9 at 7pm


Carré d'Art, a building designed by the famous English architect Norman Foster, is 30 years old in 2023. The 2023 program will be mainly dedicated to this celebration. It will be an opportunity to highlight the richness of the collection whose first acquisitions date back to 1986 in a partnership between the Ministry of Culture and the city of Nîmes. Today, it is one of the most important collections of contemporary art at a national and international level.
Carré d'Art was created on the initiative of Mr. Jean Bousquet, Mayor of Nîmes and Mr. Robert Calle, the first director who thought up the prefiguration programming and the constitution of the collection before its opening.

The exhibition of any museum collection will always be a learning process, as well as a questioning process. By choosing to tell one story, many others are abandoned. Although Carré d'Art does not have as its mission a universalist vision, the exhibition shows that in recent decades Europe and the United States are no longer the only continents. Other parts of the world like the Middle East or Asia have their place to show the complexity of the world in which we live. To put forward the diversity and the common bridges at the same time. We can also think about the presence of women, which has increased a lot in recent years, both in the collection and in the programming.

On the occasion of the 30th anniversary of Carré d'Art, contemporary art is deployed in the city of Nîmes. The collection of the museum of contemporary art will also be visible in all the museums of the city.




Agenda
December 2023
M
T
W
T
F
S
S

01

02

03

04

05

06

07

08

09
10

11

12

13

14

15

16

17

18

19

20

21

22

23

24

25

26

27
28
29

30

31