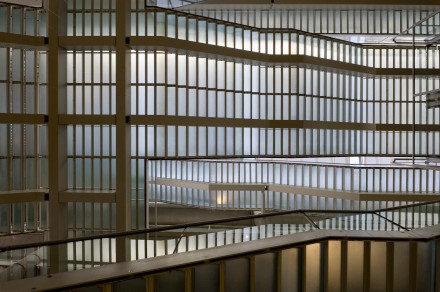 Photo David Huguenin
The opening of Carré d'Art-Musée d'art contemporain in 1993 was one outcome of the policy of cultural decentralization implemented in France beginning in the eighties. Located between the CAPC of Bordeaux and the Abattoirs de Toulouse to the west, the MAC in Marseille and MAMAC in Nice to the east, but also no great distance from the MACBA in Barcelona, the Nîmes museum of contemporary art is another link in a network that has been enriched over the years to promote and disseminate contemporary art across the Mediterranean region.
Like its Parisian model, the Georges Pompidou Centre, Carré d'Art houses both the multimedia library and the contemporary art museum, providing a lively new venue for local residents and visitors from further afield. It was in 1983 that the newly elected mayor of Nîmes, Jean Bousquet, confirmed his plan to turn the city into a cultural centre, with the creation of this new institution as its centrepiece.
Started in 1986, with substantial State backing, the contemporary art museum's collection includes nearly 600 items.
Agenda
December 2023
M
T
W
T
F
S
S

01

02

03

04

05

06

07

08

09
10

11

12

13

14

15

16

17

18

19

20

21

22

23

24

25

26

27

28

29

30

31