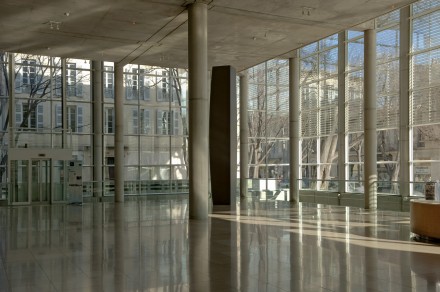 Begun in 1986, the museum collection includes 500 items and covers the period 1960 to the present day. In addition to the museum's own acquisitions are items on loan from FRAC Languedoc-Roussillon and the Fonds national d'art contemporain. The collection was built up around representation of movements initiated in the south of France like Nouveau Réalisme, Supports-Surfaces and Figuration Libre. The hangings are renewed each year, enabling an in-depth approach to major artistic movements. Arte Povera is especially well represented, with works by Mario Merz, Giuseppe Penone, Alighiero Boetti and Giovanni Anselmo. Also included are major works by American artists like Richard Artschwager, Allan Kaprow, Joseph Kosuth and Christopher Wool. Part of the collection is devoted to German painting, with works by Gerhard Richter, Sigmar Polke and Albert Oehlen and installations by Thomas Schütte.
Sophie Calle, Annette Messager and Suzanne Lafont, key figures in French creative art, are also featured in the collection by sets of photographic works or installations
Walid Raad, Ryan Gander, Philippe Parreno and Taryn Simon are among recent acquisitions and loans.