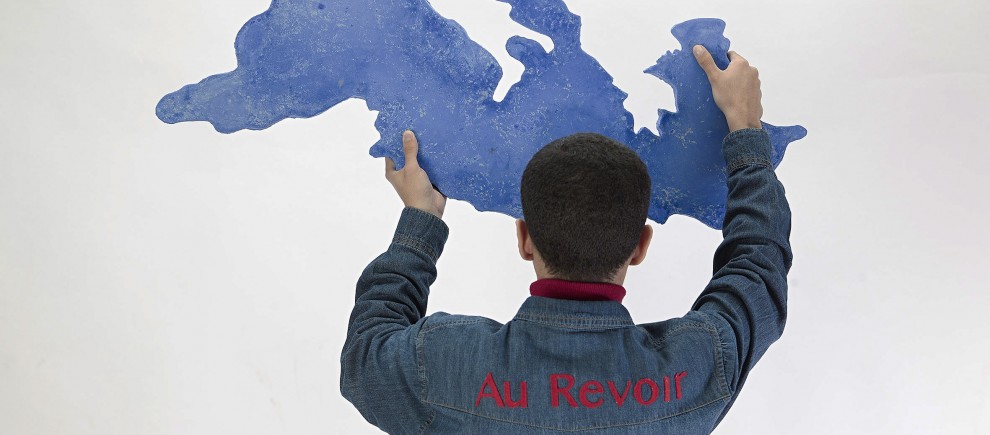 Project Room
ETTORE FAVINI
au revoir
22.02 > 31.10.2020
Ettore Favini's oeuvre uses a variety of media to explore the relationship between a work and its surrounding reality, and the possibility of suppressing the boundaries between the individual and the collective, the private and the public. In 2015, Ettore Favini set off on a long path to rediscover a universe rendered visible through the interstices of the warp and the weft, a metaphor of life for the artist. Au Revoir has an open temporality which navigates through the textile memories inscribed in the Mediterranean area. The project will make its way from Sardinia to Genoa, Cairo, Chieri, then venture beyond the Alps to Nîmes. Four cities who have fabrics in common, whose origins have traversed the world over several centuries – "jeans" and "denim," whose existences are intertwined.
The exhibition at the Carré d'Art, Musée d'Art Contemporain of Nîmes is presented as the conclusion of a long passage, both spatial and temporal, Favini pursued along the trails left by these textiles. This road has been a shared one, thanks to the curatorial support of Connecting Cultures (Milan), the collaboration of representatives and textile artisans from the Egyptian and North African communities in Milan, as well as the Fondazione per il Tessile in Chieri. As a result, the works on display are the repositories of the histories of lives, of families, of work and expertise. They explore the flow and borders of the Mediterranean world, from Antiquity to the present day, woven together with needle and thread. The backdrop to these works is the sea, the main historical player in this narrative. This is the preeminent concept behind the Carré d'Art exhibition. Centered on the metaphor of the sea and the life of these textiles, Au Revoir incites us to rethink the history of the world, notably our collective memory.
A large portion of the works shown, as well as the publication that relates the artistic project, examining a variety of different narratives and perspectives, has been published by Connecting Cultures.
Exhibition Curator: Roberta Garieri
Au Revoir is supported by the Italian Council (6th Edition, 2019) program to promote Italian contemporary art in the world under the Directorate-General for Contemporary Creativity of the Italian Ministry for Cultural Heritage and Activities and Tourism

---
Video of the exhibition
Catalogue de l'exposition
Agenda
October 2023
M
T
W
T
F
S
S

01

02

03

04

05

06

07

08

09

10

11

12

13

14

15

16

17

18

19

20

21

22

23

24

25

26

27

28

29

30

31