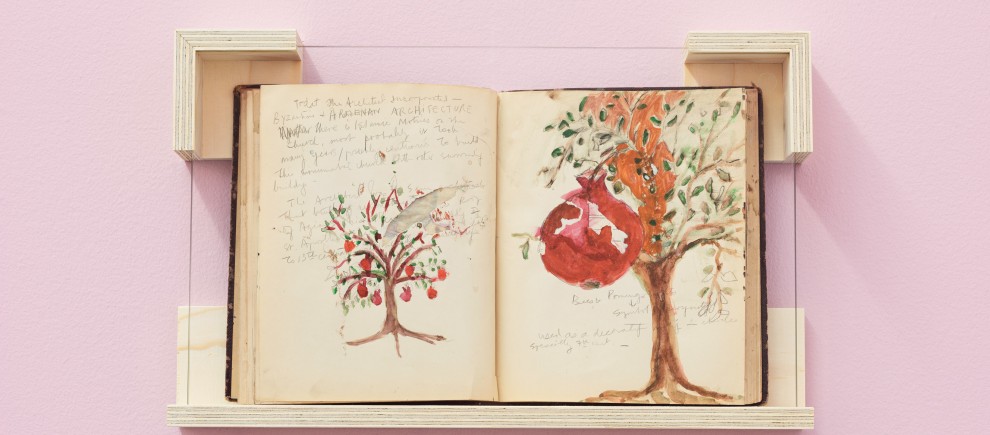 Exhibition
Anna Boghiguian
14.10.2016 > 19.02.2017
A WALK IN THE UNCONSCIOUS
Anna Boghiguian (born 1946) produces drawings and paintings of individuals and urban spaces, and is also a poet. Her artistic approach can be understood as an attempt at mapping the world. For her, individuals are conditioned by the space around them and the self by the walls constructed by cultural, religious or political conditions. She is always travelling to abolish these frontiers, creating wherever she goes, but always returning home to Cairo. In the seventies, she also composed from the noises of the city, which she then transposed into the field of painting. Her paintings are always very dense compositions, and are sometimes presented along with her own writings. Her narratives combine personal history and politics passing from past to present, deconstructing reality and heading towards the mythological. We are faced with a world in movement, undergoing continuous transformation. She constructs a highly personal space inhabited by her story but listening to the world and the issues involved in its transformation. At Carré d'Art, she is developing a complex, poetical narrative based on the city's rich past and on our reality.
This is her debut solo exhibition at an art institution. Recent shows at the ZKM, Documenta 13, the Venice, Sharjah and Istanbul biennales, at the New Museum New York, Van Abbe Museum Eindhoven.
Some works may offend the sensibility of young visitors.
Video presentation of the exhibition
Catalogue de l'exposition
Agenda
October 2023
M
T
W
T
F
S
S

01

02

03

04

05

06

07

08

09

10

11

12

13

14

15

16

17

18

19

20

21

22

23

24

25

26

27

28

29

30

31